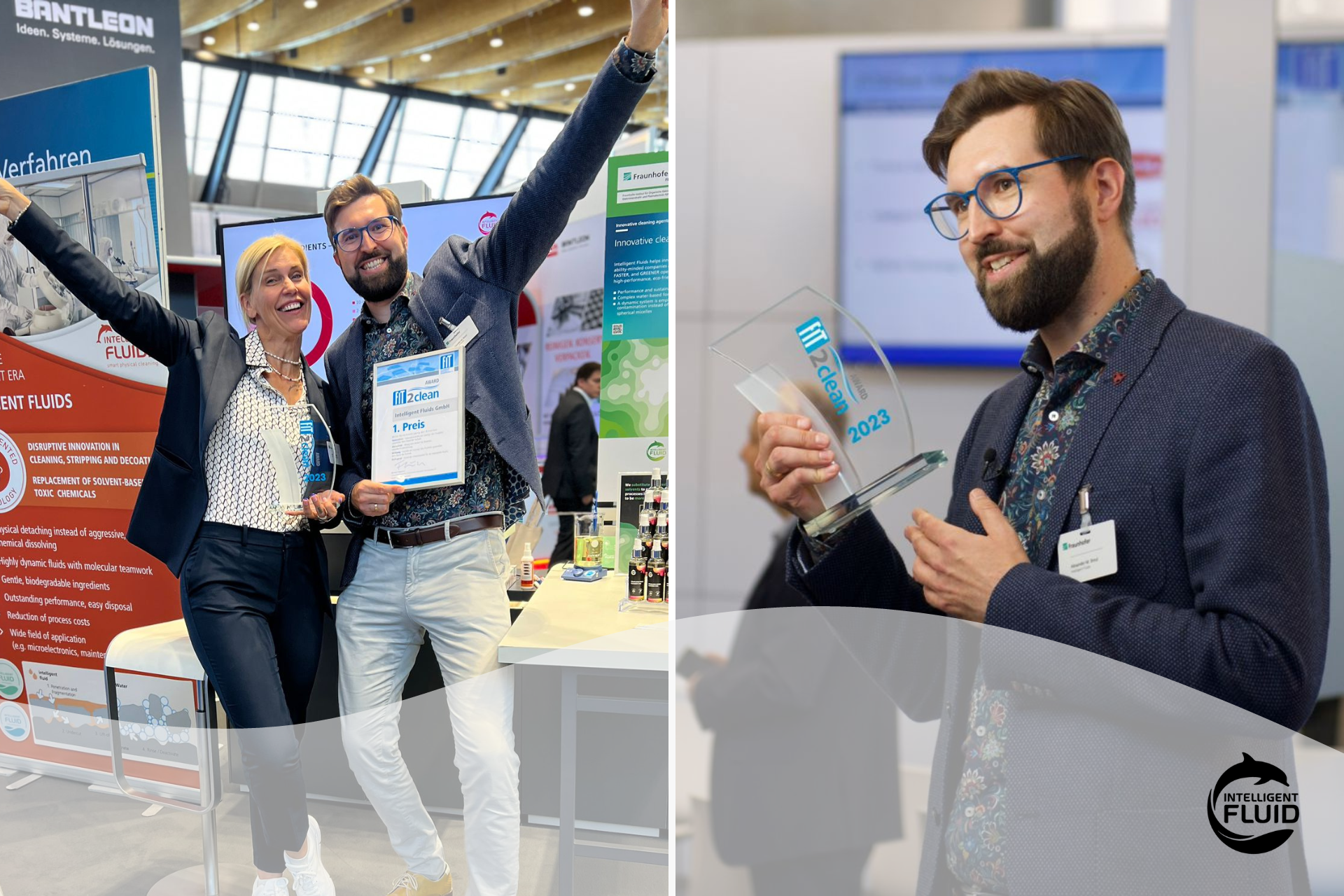 Intelligent fluids wins FiT2Clean award 2023: Pioneering sustainability in industrial component cleaning
In a world where sustainability is crucial, recognizing and celebrating innovative solutions is essential. During this year's parts2clean exhibition in Stuttgart, intelligent fluids achieved a significant milestone by winning the prestigious FiT2clean award. This award highlights our pioneering role in revolutionizing industrial component cleaning and acknowledges our dedication to sustainability.
FiT2clean award: Mastering current challenges in industrial component cleaning
The FiT2clean award is presented by the Cleaning Association FiT (Fachverband industrielle Teilereinigung). FiT acts as an interface between research, development, and the practical application of industrial cleaning technology to generate new insights, compile current knowledge and promote exchange in the industry and with external stakeholders. The FiT2clean award focuses on recognizing outstanding achievements and solutions to current challenges in industrial component cleaning.
Intelligent fluids: A visionary in sustainable cleaning
At intelligent fluids, we are challenging traditional cleaning practices every day. Unlike conventional solvent-based products that may harm the environment and pose health risks, our water-based cleaning agents offer a safer and more sustainable alternative without having to compromise on cleaning performance. Our cleaning products not only clean efficiently but also help preserve the environment and prioritize user safety.
What truly distinguishes intelligent fluids from conventional cleaning agents is our innovative technology: Instead of aggressive and harmful chemical dissolving, we offer an entirely new science-based technology that physically removes any organic contaminant.
Celebrating the FiT2clean Award
Intelligent fluids' win of the FiT2clean award is a recognition of our dedication and innovation as well as a testament to our vision of a cleaner, greener world. This prestigious award highlights the impact we are making in the field of industrial cleaning.
As intelligent fluids continues to pave the way for sustainable cleaning solutions, our FiT2clean award win serves as an inspiration for others in the industry. It demonstrates that efficient cleaning performance and sustainability can go together and are essential for a greener future.
Winning the FiT2clean award honours our groundbreaking work in sustainable industrial cleaning. We are committed to eco-friendly practices and making innovative solutions to contribute to a cleaner and greener world by transforming industrial cleaning from one of the most polluting sectors globally into a clean one.